"We strongly believe that along with our quest to deprogram the entire society as a solution to the problem that we must project the truth and benefits of Black people's kinship ties. We believe that the 'Lunda' people were totally correct."
The Journey of the Songhai People
Robinson, Battle & Robinson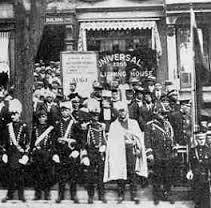 "Life without music, I don't want to go"
Steel Pulse
But isn't the above true. Im sure you have experienced forgetting your headphones or the battery dying in the middle of your favorite song! Talking about mad! Well, lets not go there. Let's recall that first concert or the first 45 you bought! Some of you might say, what is a 45? My response, google it! Only because if you don't know, you may be a little young to truly appreciate the "hungrydjpossey" page. This page is dedicated to music that elevates the soul. Music that promotes peace, justice and love.
Follow: hungrydjpossey.com below:
"A people without the knowledge of their past, history, origin, culture,  is like a tree without roots."
The Honorable Marcus Mosiah Garvey
The City of Oakland is the chosen home for many filmmakers. For the past 14 years, The Oakland International Film Festival has hosted a number of events to promote filmmakers and the stories they tell. The 15th Oakland International Film Festival takes place April 4-8th, 2017. Follow @oiff below to find out the latest film events in the East Bay.